Goodbye PCC99 Workshop!
On behalf of the European Science Foundation, we thank all participants of the
AMIF Workshop on
PHASE CHANGE WITH CONVECTION: MODELLING AND VALIDATION

held on 24 - 26 JUNE 1999 in WARSAW, &nbsp

---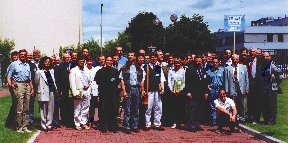 Click to zoom (110kB)
---
Organizing Committee

Chairman

Co-Chairmen
AMIF Steering Committee
---
Scientific Advisory Committee
---
The PCC99 Workshop aimed to create a common platform for different groups working on modelling phase change problems. The Workshop addressed both the theoretical bases for the solution of physical and mathematical problems concerning phase changes, and the numerical algorithms necessary for efficient and robust computer implementations. Validation and verification of codes and their implementation to practical industrial situations were given special attention at the meeting. PCC99 should help people working in applied mathematics, numerical modelling and industrial applications to gain knowledge and allow critical assessment of different approaches, numerical methods, physical models and validation methods used in the field.
---
The scientific program consisted of plenary sessions featuring lectures by distinguished speakers and contributed lectures. Parallel sessions were not provided for. The special goal was to present invited papers and keynote lectures which summarize and critically evaluate the existing state of the field, to elucidate the novel mathematical and computational as well as practical aspects of the methods, and to indicate innovative trends and new perspectives in fluid mechanics.
---
Fundamentals of phase change phenomena and their implication on the models (supercooling, non-equilibrium problems, interactions of multicomponents, micro-macro scale, microgravity).
Different numerical approaches (transformed vs. fixed grid, discrete vs. continuous models, FEM, FDM, FVM, BEM)
Validation problems - definition of the crucial factors for the specific problems
Specification of numerical and experimental benchmarks (initial conditions, thermal boundary conditions, etc.).
Industry specific problems and experimental techniques

INVITATION TO THE BENCHMARK PROBLEM

Further details, the scientific program and list of Keynote Lectures: please click here.
---
All conference participants planning to present their work were asked to submit an Extended Summary. Extended Summaries of the presented papers are published as:
ESF-AMIF PCC99 Workshop, Book od Abstracts, T.A. Kowalewski, F. Stella, J. banaszek, J. Szmyd (eds), IPPT Reports vol. 5/1999, 170 pages, Warsaw 1999. The book was provided to participants and redistributed to libraries. A set of Short Abstracts is displayed at the WWW.
Authors were asked also to submit also a short version of their abstracts using standard web navigator.

Authors were encouraged to submit full papers after the Conference, to be published in a special issue of Computer Assisted Mechanics and Engineering Sciences. The 12 selected papers submitted to this special issue will appear in CAMES vol 7 no.3 begining of June 2000. For more information about journal please consult the Web page http://cames.ippt.gov.pl/ , or contact the Editor-in-Chief, Prof. M. Kleiber, e-mail: cames@ippt.gov.pl
---

Click here to see submitted abstracts.
---
---
Mailing address:
Elzbieta Rybakiewicz
PCC99
IPPT PAN
Swietokrzyska 21
PL 00-049 Warsaw, Poland.
Fax: +48-22-8269815.
---
May 30, 1999 Closing of the Abstract Book
May 30, 1999 Early registration deadline
May 30, 1999 Deadline to apply for ESF financial support
September 30, 1999 Deadline to submit full paper for CAMES
---
The basic registration fee was 1200PLN. It included symposium materials, 3 nights single bed accommodation with meals, refreshments and social events. Fee reductions and European Science Foundation grants for participants presenting papers were available. Those who wish to apply for support could do so explicitly on the registration form.

Exchange rates. Click to see how much is Zloty today
---

The Workshop was held in downtown Warsaw at moderately priced accommodations in a modern Conference Centre.

Click here to get tips about travel, tourism in Poland etc. ...

KEYNOTE LECTURES
Christoph Beckermann
The University of Iowa, USA
Phase-Field Simulations of Solidification with Convection



Dominique Gobin & Patrick Le Quéré
Benchmark for coupled convection and heat transfer in solid-liquid phase change



Eddie Leonardi
University News South Wales, Sydney
Solidification and melting in microgravity



Jacques Rappaz & J.F. Scheid
Swiss Federal Institute of Technology, EPFL, Lausanne
Existence of solutions to a phase field model for
the isothermal solidification process of a binary alloy



David S. Riley
Department of Theoretical Mechanics, University of Nottingham
Some interfaces between theory and experiment


---

CLICK HERE FOR DETAILED PROGRAM
PCC99
ESF-AMIF
TIMETABLE
24.06.1999
THURSDAY
Registration office
12.00-20.00
Room 102
12.00-
Rooms available
&nbsp
13.00-15.00
Lunch
on site
15.00-16.00
Welcome Coffee
on site
16.00-16.15
Opening
Room 101
16.15-18.20
Session 1
Chairman: J. Banaszek
Room 101
19.30-22.00
Welcome dinner
on site
25.06.1999
FRIDAY
Registration office
8.00-16.00
Room 102
8.15-10.00
Session 2
Chairman: J. Szmyd
Room 101
10.00-10.30
Cofee break
10.30-12.30
Session 3
Chairman: F. Stella
Room 101
12.30-14.00
Lunch
on site
14.00-16.00
Session 4
Chairman: P. Le Quere
Room 101
16.00-16.40
Cofee break
16.40-18.40
Session 5
Chairman: A. Solan
Room 101
19.00-21.00
Dinner
on site
26.06.1999
SATURDAY
9.00-10.20
Session 6
Chairman: P. Furmanski
Room 101
10.20-11.00
Cofee break
11.00-12.20
Session 7
Chairman: K. Suzuki
Room 101
12.30-14.00
Lunch
on site
14.00-15.20
Session 8
Chairman: D. Gobin
Room 101
15.20-16.00
Cofee break
16.00-17.00
Closing Panel Discussion
Chairman: E. Leonardi
Room 101
19.00-21.30
Opera
22.00-23.30
Dinner
27.06.1999
SUNDAY
Social Program (early booking necessary)

CLICK HERE FOR DETAILED PROGRAM
---
Index PCC99 Workshop