BENCHMARK FOR COUPLED CONVECTION AND HEAT TRANSFER
IN SOLID-LIQUID PHASE CHANGE
defined a benchmark problem to test the accuracy and efficiency of the numerical algorithms designed for the computation of coupled coupled natural convection/phase change problems.
A comparison exercise for numerical codes simulating melting in the presence of natural convection in the melt proposed deals with melting of a pure substance controlled by natural convection in the melt. Consider a 2D square cavity (height H = width L) initially filled with a solid material at a uniform temperature (To = Tf). At t* = 0, the temperature of one of the vertical walls (the left wall in the Figure) is raised at a value T1 > Tf, while the other vertical wall is maintained at the initial temperature.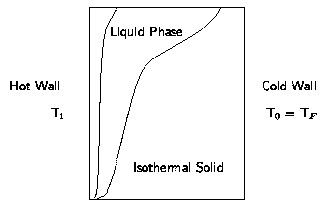 After an initial transient where conduction is dominating, thermal convection develops in the liquid phase and the resulting non uniform heat transfer at the melting front leads to the displacement and deformation of the interface. The horizontal walls are assumed to be adiabatic and no-slip. Convection is supposed to be in the laminar regime. The thermophysical properties of the material are supposed to be constant.

Deatails of the problem you can download here (compressed postscript, 50Kbytes).

People working in this field are warmly encouraged to participate to this benchmark exercise. A synthesis and comparison of the results will be presented at PCC99 Workshop.

Potential contributors to this comparison exercise should contact as soon as possible D. Gobin and P. Le Quér&eacute. Contributions should arrive before May 15th 1999, in order to be included in the proceedings.