FAREWELL EUROMECH 406
Euromech Colloquium on
Image Processing in Applied Mechanics

6 - 8 MAY 1999, WARSAW, &nbsp

---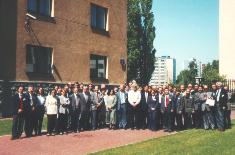 Click to zoom (99kB)
---
EUROMECH 406
Euromech Colloquium on
Image Processing Methods in Applied Mechanics
On behalf of the European Mechanics Society, Institute of Fundamental Technological Research Polish Academy of Sciences (IPPT PAN), Image Processing Society Poland (TPO) and Institut fuer Stroemungsmechanik Deutsches Zentrum fuer Luft- und Raumforschung (DLR) we thank all particiapants of the Euromech Colloquium on Image Processing Methods in Applied Mechanics, held in Warsaw, Poland.
---
The EUROMECH 406 Colloquium aims to create a common platform for groups working on development and application of modern image acquisition and image processing methods in fluid and solid mechanics. Recent progress in image recording and analysis techniques has introduced revolutionary changes into experimental methods in mechanics. However, we often observe that the development of image processing techniques in both fields of mechanics proceeds on parallel paths, very often solving similar problems without knowing from each other's work. The EUROMECH 406 meeting should help participants to gain knowledge and allow critical assessment of similarities or differences between image processing methods used in applied mechanics today. The objective of the meeting is to provide a forum for researchers in the methods and their applications in diverse fields, to present contemporary concepts and techniques leading to the advancements of capabilities and understanding of the mathematical and practical aspects of image processing methods in mechanics.
---
The scientific program consists of plenary sessions featuring lectures by distinguished speakers and contributed lectures. Parallel sessions are not provided for. The special goal is to present invited papers and keynote lectures which summarize and critically evaluate the existing state of the field, to elucidate the novel mathematical and computational as well as practical aspects of the methods, and to indicate innovative trends and new perspectives in solid and fluid mechanics.
---
Proposed topics of the meeting
Pattern recognition, analysis of size, shape and deformation
Motion analysis, full field measurements of velocity
Thermography (infrared, liquid crystals), scalar field measurements
Stress and strain analysis
Structure analysis, measurement of species concentration
Three-dimensional image analysis, tomography
New image acquisition methods: high speed & high resolution techniques

Further details, list of Keynote Lectures: please click here.

Click here to see the Colloquium Program
---
Extended Summaries of the presented papers are published as:
Euromech 406 Colloquim, Book od Abstracts, T.A. Kowalewski, W. Kosinski, J. Kompemhans (eds), IPPT Reports vol. 4/1999, 258 pages, Warsaw 1999. The book was provided to participants and redistributed to libraries. A set of Short Abstracts is displayed at the WWW.

Authors were encouraged to submit full papers, to be published in a special issue of Machine Graphics & Vision. The sixteen papers selected are published in Machine Graphics & Vision, vol.8, no.4, 1999.
For more information about the journal and subscription rates please consult MG&V Web Site or contact the Editor-in-Chief: Prof. Wojciech Mokrzycki, e-mail: wmokrzyc@ipipan.waw.pl
---
H. Aben (Estonia)
G.M. Carlomagno (Italy)
A. Cenedese (Italy)
L. Chmielewski (Warsaw)
I. Grant (UK)
T. Kobayashi (Japan)
J. Kompenhans (Co-Chairman)
W. Kosinski (Co-Chairman)
T. Kowalewski (Chairman)
M. Kujawinska (Warsaw)
W. Merzkirch (Germany)
B. Michel (Germany)
W. Mokrzycki (Warsaw)
W. Osten (Germany)
C. D. Tropea (Germany)
P. Smigielski (France)
G. Sommer (Germany)
---
---
---
The basic registration fee is 1300.00 PLN (Zloty), i.e. approx. 300 EURO. It includes symposium materials, single bed accommodation with breakfast and lunch, refreshments and social events. Fee reductions and Euromech Society grants for young participants will also be available. According to the policy of Euromech Society all participants who are not members of EUROMECH are obliged to pay an extra fee 60DM (200FF) for Euromech Society. To become a member of EUROMECH please fill and send an application form directly to the Euromech Society. Click here to get the application form. The EUROMECH annual fee is 45DM and should be paid directly to the Euromech Treasurer before Colloquium!

Click here to get more details and the Registration Form.
---
Location and Accommodations

The Colloquium will be held in downtown Warsaw at moderately priced accommodations in a modern Conference Centre. Click here to get details

FAQs, HOWTO reach the place ...

SOCIAL PROGRAM

Click here to get tips about travel, exchange rates, tourism in Poland etc. ...
---

INSTITUTIONS SPONSORING AND DISPLAYING THEIR ITEMS
---