Division of Inteligent Systems
Home page
Our staff members: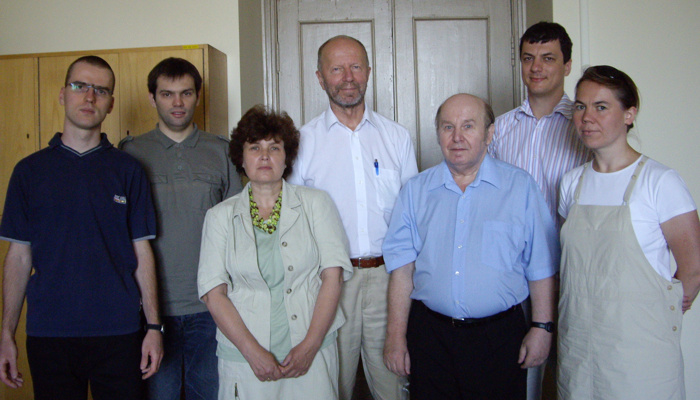 [mouse over to get a name (after a while), click to jump to the homepage (if it exists)]
Previous members

Truong Lan, M.Sc.
Gytis Karciauskas, Ph.D.
Maciej Domaszewski, Ph.D.
Artur Dubrawski, Ph.D.
Ireneusz Hallmann, M.Sc.
Elzbieta Leskiewicz, M.Sc.
Janusz Racz, Ph.D.
Michal Saran, Ph.D.
Krzysztof Sikorski, Ph.D.
Martyna Weigl, Ph.D.
---
Here we are:
---
---
Current conferences we attend:

March 14-16, 2007: AUTOMATION 2007 - Innovations and Prospective, Warsaw, Poland

S. Ambroszkiewicz. A. Borkowski, K. Cetnarowicz:
On distributed control of multiple mobile robots (in Polish, invited)

April 11-14, 2007: International Conference on Adaptive and Natural Computing Algorithms: ICANNGA'07, Warsaw, Poland

A. Borkowski, P. Nikodem:
Self-adaptive evolutionary methods in designing skeletal structures

June 21-23, 2007: 16th International Symposium on Measurement and Control in Robotics: ISMCR 2007, Warsaw, Poland

S. Ambroszkiewicz, A. Borkowski, K. Cetnarowicz:
Adaptive bilayer control of multiple mobile robots (invited)

September 19-21, 2007: European Conference on Mobile Robots: ECMR 2007, Freiburg, Germany

E. Roszkowska, B. Kreczmer, A. Borkowski, M. Gnatowski:
Distributed supervisory control for a system of path-network sharing mobile robots

September 6-8, 2007: VLC 2007 - International Workshop on Visual Languages and Computing,
(held with Thirteenth International Conference on Distributed Multimedia Systems, DMS'2007), San Francisco Bay, CA, USA

Z. Kulpa: Programmme Committee member

September 19-21, 2008: Diagrams 2008: 5th International Conference on the Theory and Application of Diagrams, Herrsching, Germany

Z. Kulpa: Program Committee member
---

Our institute
Department of Intelligent Technologies
---
Maintained by Michal Gnatowski
Designed by Zenon Kulpa
Last updated Oct 20, 2009